Farmer Boys® was founded in 1981 by five burger-loving brothers raised on a family farm. They grew up working the soil, and they have the calloused hands and crow's feet wrinkles to prove it. They're not just old school, they built the school. Serving award-winning burgers, hearty cooked-to-order breakfasts, huge, hand-chopped salads, and tall, stacked sandwiches since 1981, they know one thing: farm fresh food will never go out of style. At last count, there are over 100 Farmer Boys restaurants in California, Nevada, and Arizona. We've just celebrated our 40th anniversary in 2021, and the Farmer Boys family continues to grow.
The next generation of Farmer Boys and Girls is joining the business. The five founding brothers' children are now helping to drive the business forward. They are involved in various aspects of the business working alongside the restaurant support team and the founders with a focus on future trends, while maintaining a deep understanding of and an appreciation for the past.
1960's
CYPRUS BEGINNINGS
Growing up on the island of Cyprus, the brothers work on the family farm and in the family restaurant. Known to friends and family as "The Farmer Boys®," they learn the importance of hard work and grilling a killer burger.
1979
THE AMERICAN DREAM
Mike, Harry, and Chris buy their first restaurant, Astro Burger, in Torrance, CA. They get a taste of success, but they want more.
1981
THE FIRST FARMER BOYS®

The brothers open their first Farmer Boys® restaurant in Perris, California. The burger world is rocked forever.
1984
THE FARMER'S BURGER® IS CREATED
The massively delicious Farmer's Burger is a hit and is anointed by critics as one of Southern California's best burgers. Burger fans are drawn to it like 100% USDA fresh burger beef to a flame.
1995
8 IS NOT ENOUGH
The brothers open the eighth family-owned Farmer Boys®. They decide to franchise to speed up the growth of the company and meet the demand for Farmer Boys® food. New business partners become friends and family.
2003
25 IN 22
The San Jacinto Farmer Boys® opening marks the 25th Farmer Boys® in the twenty-two years since the first restaurant opened in 1981. The competition openly weeps.
2005
50TH FARMER BOYS
In two years, the chain experiences remarkable growth. Loyal fans have become fanatics.
2008
AWARD WINNING BURGER
The Farmer's Burger is named Best Burger in Southern California by KCBS-TV and Best Burger in the Inland Empire. The Farmer's Burger narrowly loses the Oscar for Best Actor to Daniel Day Lewis. It can't win everything.
2009
FARMER'S BURGER WINS AGAIN
MyFOXla HOTLIST awards the Farmer's Burger number #1 for the second year in a row. People start asking for its autograph before devouring it.
2011
FARMER BOYS TURNS 30!
Farmer Boys® celebrates its 30th anniversary by grilling an enormous 30 pound burger. Mouths drop. Guests cheer. The founders smile.
2012
IT'S A NATURAL
Farmer Boys® launches The Natural®. The first fresh, never frozen, hormone-free, antibiotic-free burger. They do not need a nude supermodel to do this. Farmer Boys® wins Best Burger in the Inland Empire.
2013
THE YEAR OF THE SCARECROW
The Scarecrow joins the Farmer Boys® family as Head of Security to protect the farm fresh food. From what, we do not know. Farmer Boys® wins Best Burger in the Inland Empire, 2 years in a row.
2014
BACK-TO-BACK-TO-BACK
Farmer Boys® wins Best Burger in the Inland Empire, 3 years in a row. Tons of new customers flock to the restaurants. Scarecrow accepts the award without giving an acceptance speech. Reason? No mouth or brain.
2017
THE SOUTHWEST CHICKEN SALAD IS BORN
Savor the flavor! Loaded with more protein than a butcher shop, it's hard to choose between a salad or a burger. Fortunately you can have both at Farmer Boys®.
2018
ALWAYS CRISPY FRIES®
Soggy fries are a thing of the past. The path to potato perfection starts at the Columbia River Basin and leads to Farmer Boys®.
2019
BACON INTERN SEARCH
Our first ever Bacon Intern received $1,000 to quality check our bacon and verified that our food will make you squeal with delight.
2020
Farmer Girls
Farmer Boys® became 'Farmer Girls' in March, to celebrate Women's History month. We are proud to have over 290 female managers and team members as part of the Farmer Boys® family.
2021
FIRST AZ LOCATION
Bringing our farm fresh concept to Arizonians was the neighborly thing to do.
2021
Fried Chicken Sandwiches
Our guests didn't want Farmer Boys® Fried Chicken Sandwiches flying to coop, so we added them to the menu!
2021
40 YEAR ANNIVERSARY
For 40 years, Farmer Boys® has set the standard for serving high quality, farm fresh food.
2021
Farmer Boys® Tattoos
60 of our most dedicated fans received free anniversary tattoos and free burgers.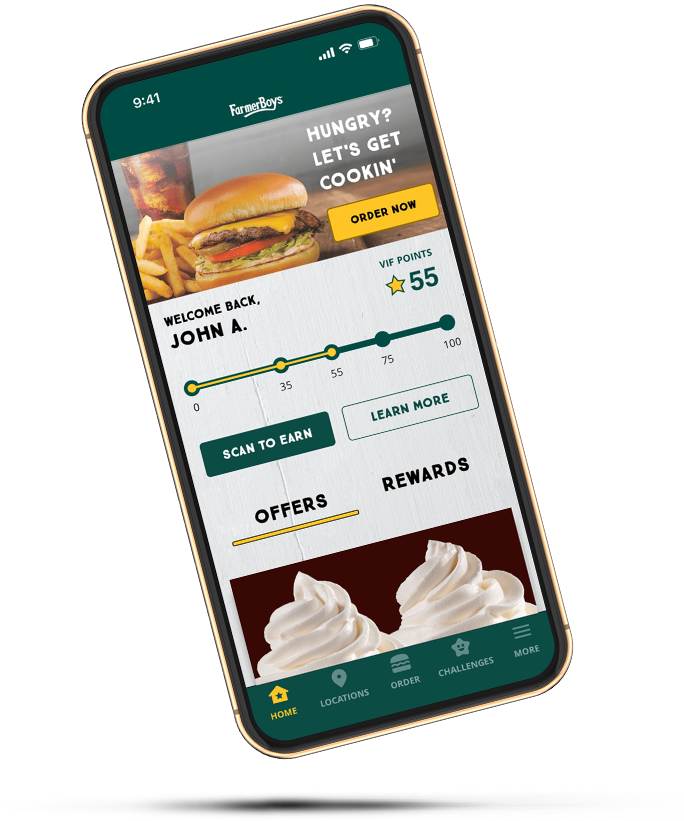 Scoring rewards has never been easier!
Join VIF Today
The instant you become a Very Important Farmer, you unlock a truckload of benefits. In addition to rewarding your taste buds by enjoying award-winning farm fresh burgers and cooked-to-order breakfast all day, you'll now earn 1 point for every $1 spent*. VIF points add up quickly to use on your farm fresh favorites. As a Very Important Farmer, we will also send you exclusive member-only offers, special opportunities to earn double points, and birthday surprises.