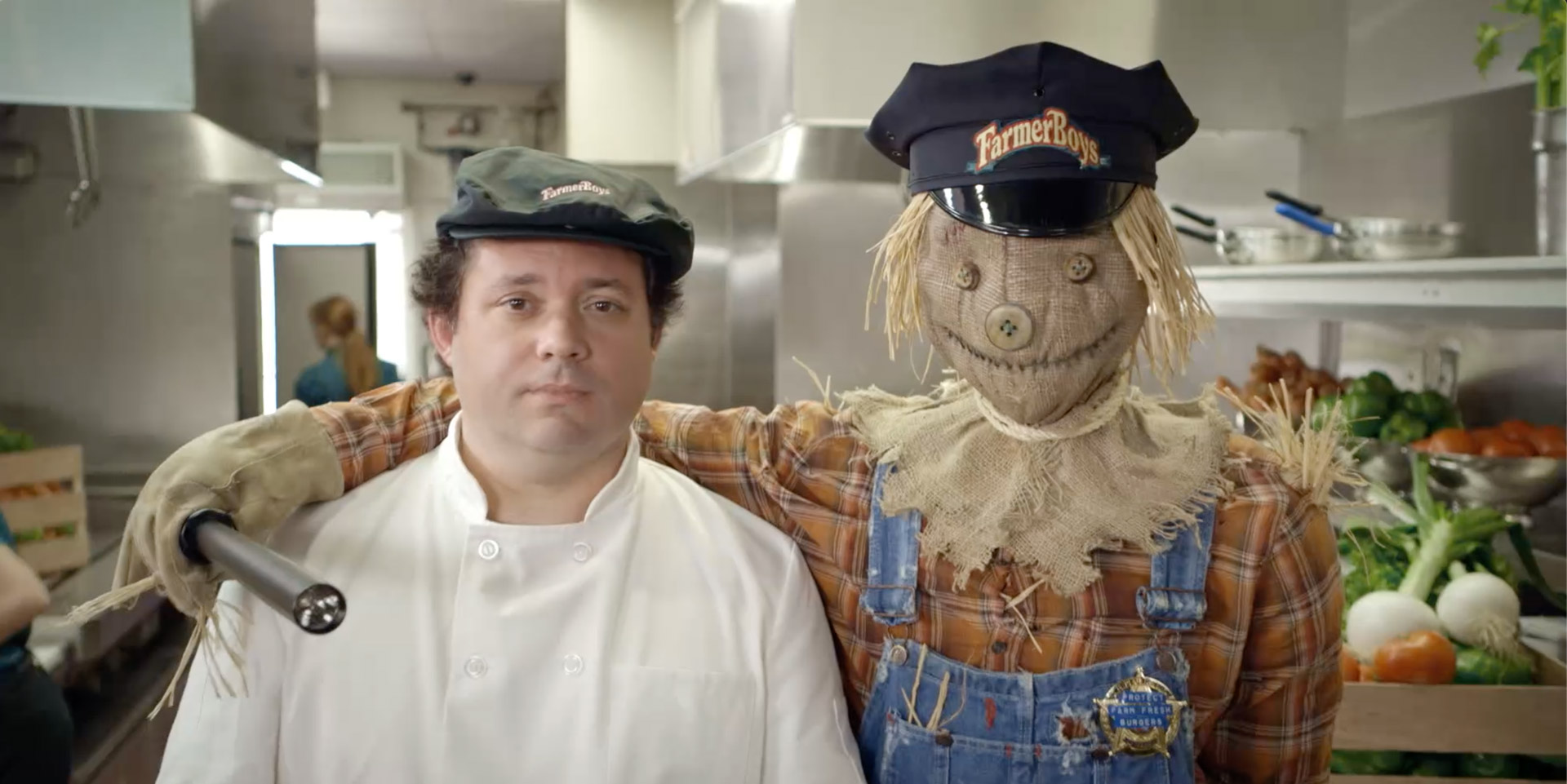 Once upon a time, there was a Scarecrow. He lived on a farm that grew vegetables for Farmer Boys® restaurants. One day, his Dad, the farmer, brought home the Farmer's Burger® from Farmer Boys. The Scarecrow watched his Dad enjoying flame-grilled 100% pure USDA beef, topped with All-American cheese, bacon and farm fresh lettuce, tomato, and hand-smashed Hass avocado.
Suddenly the Scarecrow became alarmed! He was scared for the fresh produce at Farmer Boys. Who would protect it? What if crows found their way into a Farmer Boys restaurant? Those concerns would appear ridiculous to most folks, but as we all know, a Scarecrow lacks a brain. The Scarecrow hopped off his pole and hitched a ride to the nearest Farmer Boys where he was hired as the Head of Security.
To this day, the Scarecrow protects the farm fresh produce that's served on our award-winning burgers, salads, wraps and more. From what, we do not know. The Scarecrow loves all the farm fresh food, but he can't eat any of it. He has no mouth.
You can see his exploits in Farmer Boys commercials. He's done everything from skydiving to catapulting fresh food to the restaurant to having his head blown off to being eaten by goats. It's all in days' work for our strawman and always in good fun – we never really hurt our Scarecrow. We just restuff him and put him back to work. If you see the Scarecrow inside the restaurant, say hi. If he says something back, you may want to seek professional help.
Scarecrow Facts
Superhero Powers: He can protect vegetables, wield a nightstick, hand out burgers, show up anywhere—Do just about anything, when no one is looking.
Origin Story: He was made by a small, family farmer out of good, honest, hard-working clothes. Overalls from a farmer who harvests lettuce by hand. Shirt from growers who grow locally sourced tomatoes, Burlap sack from local California Avocadoes. Hat with the sweat from three generations of family farmers. Worn Buttons. He has spent years in the fields, protecting crops. But when he heard about the Farm-to-table Farmer's Burger he knew he had a higher calling.
Flaws: Can't speak, no bones, no muscle, no expression. Flammable.
Gender: Male, 6 feet tall. Extremely limber.
Superhero Personality: A Protector. Helpful, quality conscious, environmentally conscious, stubborn, efficient, fast on his feet.
Mission: To protect and serve Farm Fresh Burgers
Alter ego: Loves the outdoors, nature. Misses the farm. But loves burgers even more. Sneaks them when he can.
Identifiable Mark: Big Farmer Boys® Badge. To protect and serve Farm Fresh Burgers.
Sidekicks: Manager and the Cook.
Archenemy: Processed fast food and the people who sell and serve it. People who would steal farm fresh veggies and burgers. To a lesser part, crows.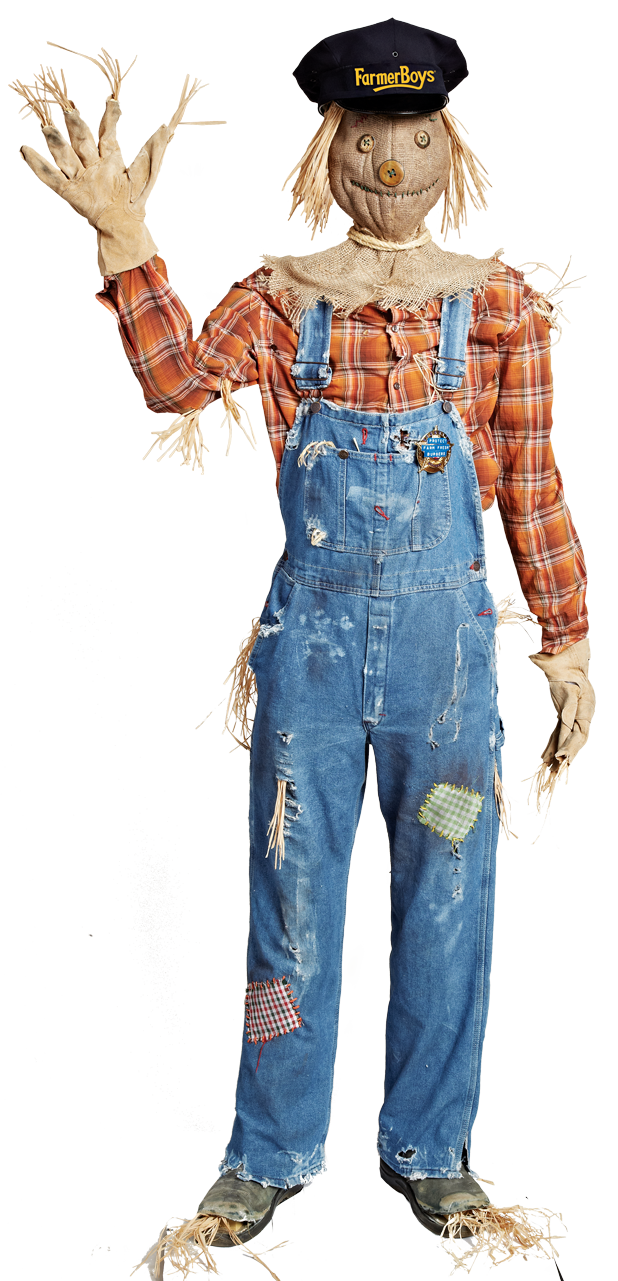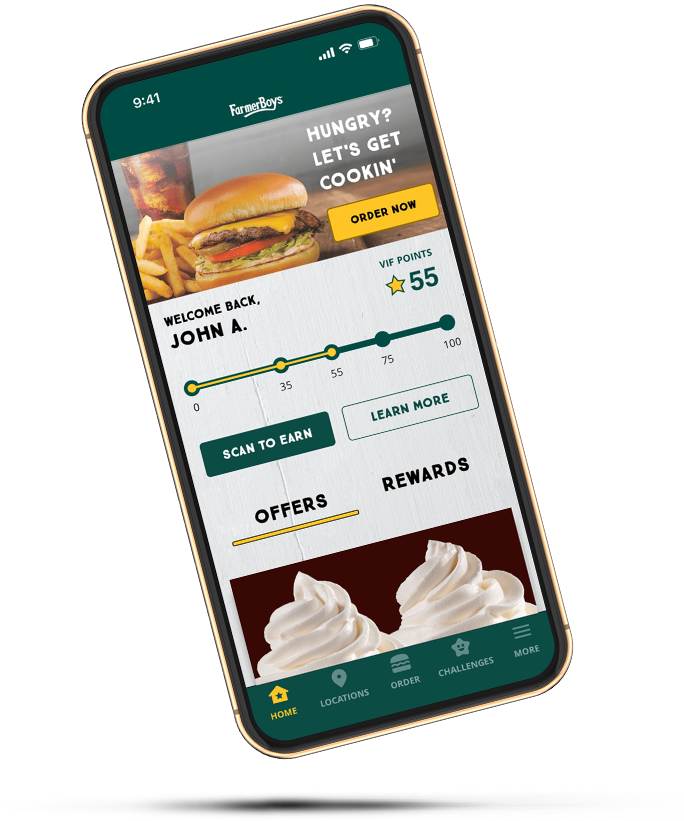 Scoring rewards has never been easier!
Join VIF Today
The instant you become a Very Important Farmer, you unlock a truckload of benefits. In addition to rewarding your taste buds by enjoying award-winning farm fresh burgers and cooked-to-order breakfast all day, you'll now earn 1 point for every $1 spent*. VIF points add up quickly to use on your farm fresh favorites. As a Very Important Farmer, we will also send you exclusive member-only offers, special opportunities to earn double points, and birthday surprises.